---
Color lenses shop: Order coloured contact lenses online
Coloured contact lenses are more than just a fashion accessory. They lend you something mystical and give you the opportunity to slip into different roles - at theme parties, Halloween, carnival or every day. Colourful contact lenses also feel at home in everyday life and make life colourful and their wearers an unmistakable eye-catcher. Colored contact lenses are available with and without visual acuity, so that the coloured lenses do not necessarily serve as a visual correction. The focus is more on transformation and the desire to experiment..
Fun contact lenses - colorful lenses with entertainment value
Our Fun contact lenses are eye-catching party gags and guarantee you attention. Here you will find numerous fun motifs, such as smileys, lettering and patterns such as crosshairs, and eye-catching (neon) colors. These colorful contact lenses are waiting for their use at carnival, Halloween or at festivals and various parties. .
They are very conspicuous because the expression of the face can change completely through the motifs, however small they may be. Whether red or yellow eyes: they look very unnatural and can be combined with many - especially creepy - costumes. But also funny motifs or the now very popular Sclera Contact Lenses , which are characterised by a particularly large diameter, are available for selection.
Focus on contact lenses with cat's eyes
The gentle slit-shaped pupils of the Cat Eyes Contact Lenses gave you the appearance of a house tiger or a predator and look very mysterious and attractive. The cat's eyes are available in many colors.
Coloured contact lenses with strength strengthen your multifaceted nature
Who always wanted to know, how he looks like with a completely different eye color (and is also wrong-sighted), can use the colored contact lenses with strength experiment with many colours. Especially combinations that occur very rarely in nature (such as black hair and water blue or green eyes) are interesting. Show a new facet of yourself and choose a mysterious color lens to your nature..
Coloured contact lenses Shop - your specialist for coloured contact lenses
The coloured lenses shop is an invitation to browse to make your transformation perfect. With us you have the choice between a gigantic variety at coloured contact lenses for every occasion and for every purpose - always at an unbeatable price. You can buy your contact lenses online and, of course, on account.
You can click your way through the colourful assortment and order your "transformation aids" home uncomplicated and free of shipping costs. You will also find coloured contact lenses for every eye colour in our shop.
In our Color Lens Blog we inform you about the latest seasonal trends, practical tips and creative ideas. Here you can register for carnival costumes inspire and experience, which Carnival Contact Lens to match your costume.
Contact lenses colored and soft with uncomplicated handling
So that you farbige Kontaktlinsen and can wear for a long time with pleasure, we have put together a few tips for you. The eye is a sensitive organ and you should always pay attention to a professional handling of the coloured contact lenses. You can find more about this in our Colour lenses accessories the necessary additions. If the eyes do not feel well, in case of doubt always: Give your eyes a break!
Pay attention to a hygienically perfect environment and wash your hands before each contact with your contact lenses. This will make it difficult for germs and bacteria to settle on your lenses.
A special lens case offers protection against bacteria and guarantees safe transport of the contact lenses.
For storage, the coloured contact lenses are placed in a container in saline solution. Make sure that the lenses are well covered by the liquid. Application errors are a possible risk of eye damage.
" Kontaktlinsen-Anfänger" sollten sich beim Augenarzt oder Optiker beraten lassen und auch die Augen vom Fachmann durchchecken lassen.
Soft lenses are flexible and easy to use. As a rule, they are well accepted by the eye and cause no problems. They can be worn for up to a month due to their water-containing and oxygen permeable material.
Simple lenses, on the other hand, such as those intended for wearing at events, should only be kept in view for a maximum of 16 hours. In addition, lenses with motifs must not be worn while driving. The coloured areas on the lens restrict the field of vision and thus the overall perception in road traffic.
Due to their low oxygen permeability, the coloured lenses are not suitable for everyday use without restrictions.
The eyes are the gateway to the soul - says an old saying from Japan
Our grandmothers still adorned themselves with gold medallions in which the eye photos of their loved ones were hidden. Last but not least, you are the first to look a person in the eye when you talk to them. So the eyes say a lot about a person's character and are important for social contact.
Eyes and their color are also a conspicuous unique feature of a human being. Today we can outsmart nature and dramatically change a person's appearance with coloured contact lenses. Eye colours that do not match the natural skin and hair type can achieve very expressive effects. Discover our world of coloured contact lenses now!
BE BEAUTIFUL - The new Beauty Tool: Colored contact lenses without strength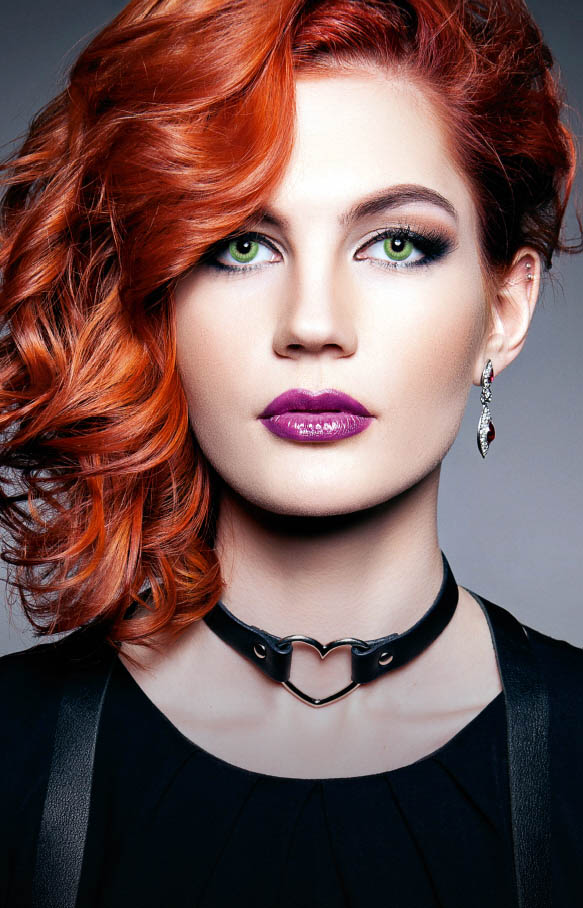 Naturally coloured contact lenses have become an integral part of make-up not only for beauty enthusiasts and fashionistas. It is fun to accentuate your own eye colour or to change it easily and achieves a great effect with little effort. Naturalness is particularly important. The contact lenses from our Natural Look collection are available without prescription and are easy to handle even for untrained contact lens wearers. The soft contact lenses can be worn comfortably in everyday life and can be used again and again for one year.
In the coloured lens shop you will find the perfect coloured contact lens for everyone. For dark and light eyes aricona offers a wide range of natural looking contact lenses.
Coloured contact lenses can be coordinated with evening make-up to set the eyes even more in scene and look particularly glossy in conjunction with eye make-up.
Make your eyes shine!
Bildquelle © Nastia11 egorr -istock.com